Cette chanson fut l'un des premiers et plus importants protest songs, et rassemble ce que les plus influentes chansons de Dylan portaient. Dylan a cherché à créer un hymne des sixties, à une époque où la jeunesse croyait vraiment qu'un changement était possible et dû, caractérisées par le Mouvement Des Droits Civiques et par la participation des USA dans la guerre du Vietnam.

Bob Dylan a écrit dans les notes de sa compilation appelée Biograph en 1985 : "Ce titre a bien sûr été influencé par les ballades écossaises et irlandaises… 'Come All Ye Bold Highway Men', 'Come All Ye Tender-Hearted Maidens'. J'ai voulu écrire une chanson importante avec des paragraphes courts et concis s'enchaînant de manière hypnotique."

Il a dit dans "Melody Maker" en 1966: "Ca n'avait rien à voir avec l'âge que l'on a ou aveec le fait d'être parents. C'était de l'amertume vis-à-vis des autorités; le genre de personnes qui se même de tout et ne vous prend pas au sérieux, mais qui s'attend à ce que vous le preniez au sérieux."

"Waters around you have grown" fait référence au Déluge dans la bible, une métaphore du Mouvement Des Droits Civiques, de même que "And the first one now Will later be last" s'inspire du même livre.

Etant un appel incantatoire comme l'étaient les annonces faites sur les places de villes et villages au moyen-âge, et comme Dylan a précisé s'être inspiré de ballades écossaises et irlandaises écrites à cette même époque, j'ai traduit le "Come gather" ou "Come" des débuts de couplet par le ralliement des des annonceurs publics de l'époque : "Oyez ici...".

Sortie en 1964 dans l'album du même nom.

Plus bas les vidéos de deux versions de Dylan et une quinzaine de reprises parmi les de 90 listées.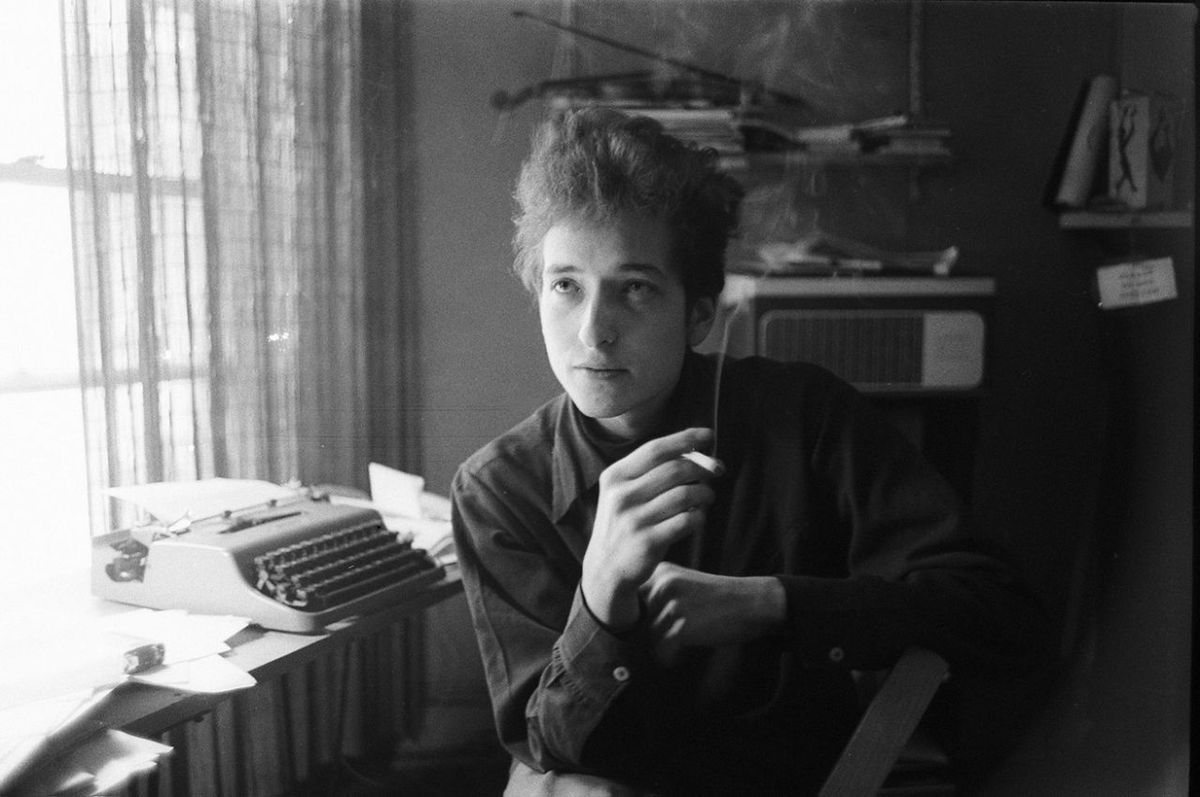 This is the epitome of protest songs, and sums up everything Dylan's most powerful songs stood for. With this song Dylan attempted to create an anthem for the 1960s, from the Civil Rights Movement to America's involvement in the Vietnam War.

Bob Dylan said about this song in the liner notes for his box-set album "Biograph" (1985), "It was influenced of course by the Irish and Scottish ballads …'Come All Ye Bold Highway Men', 'Come All Ye Tender-Hearted Maidens'. I wanted to write a big song, with short concise verses that piled up on each other in a hypnotic way."

"Melody Maker" in 1966: "It was nothing to do with age or parents… This is what it was, maybe – a bitterness towards authority – the type of person who sticks his nose down and doesn't take you seriously, but expects you to take him seriously."

"Waters around you have grown" is a reference to the Biblical Flood, a metaphor for the civil rights movement in the 1960s. "And the first one now Will later be last" is also inspired by the Bible.
Released in 1964 in tha album of the same name.

Herebelow two Dylan versions, 15 covers videos out of over 90 covers listed.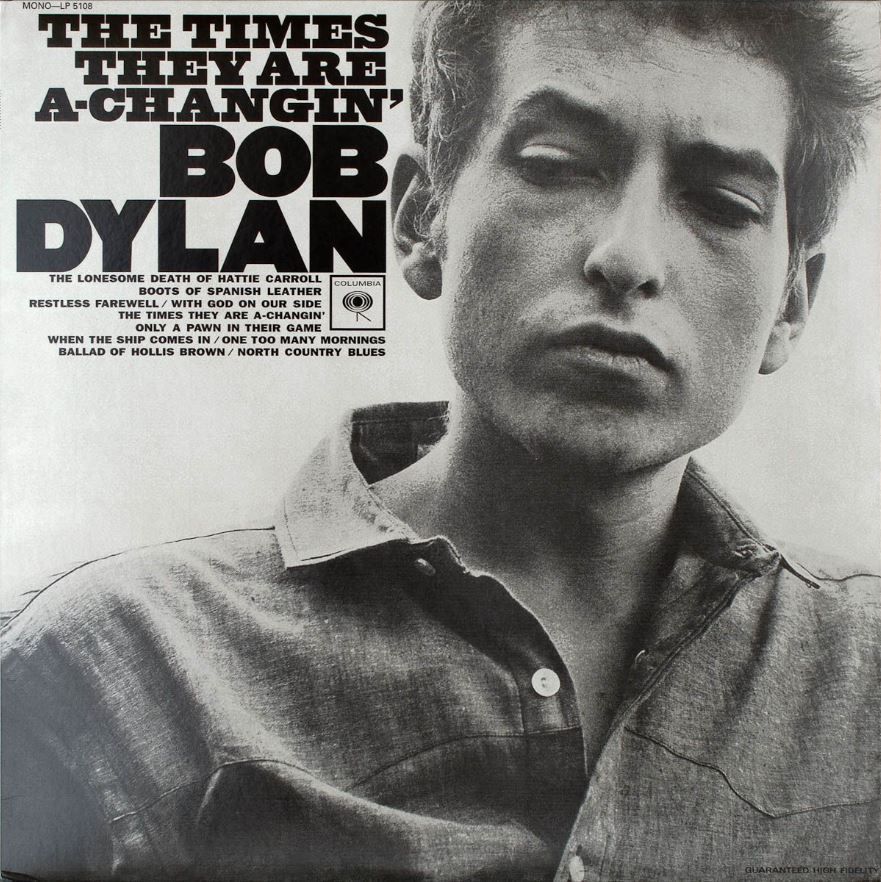 Traduction en français des paroles de la chanson :
French translation of the song's lyrics :
Bob Dylan - The Times They Are A-Changin
Oyez ici bonnes gens
De toutes horizons
Sachez donc que la montée
Des eaux vous encercle
Et admettez-le, bientôt
Vous serez trempés jusqu'à l'os
Si pour vous le temps
Vous est précieux
Alors il est grand temps de nager
Ou vous coulerez telle une pierre
Car les temps sont en train de changer
Oyez ici écrivains et critiques
Vous par votre plume prophètes
Gardez vos yeux grand ouverts
Cette chance ne reviendra pas
Ne parlez pas avant votre tour
Car la roue tourne toujours
Et l'on ne saurait dire de qui
Elle donnera le nom
Car le perdant de ce jour
Sera le gagnant du prochain
Car les temps sont en train de changer
Oyez ici sénateurs et gouverneurs
Veuillez entendre l'appel
Ne restez pas là dans le passage
N'encombrez-pas les corridors
Car celui qui sera blessé
Sera celui qui tergiverse
La bataille a lieu dehors
Et elle fait rage
Elle fera trembler vos fenêtres
Et ébranlera vos murs
Car les temps sont en train de changer
Oyez ici mères et pères
A travers le pays
Ne portez pas de jugement
Sur ce que vous ne sauriez comprendre
Vos fils et vos filles
N'obéissent plus à vos ordres
Votre vielle voie
Vieillit bien vite
Dégagez donc de la voie nouvelle
Si vous ne pouvez apporter votre aide
Car les temps sont en train de changer
La ligne est tracée
Le sort en est jeté
Celui qui se traîne
Bientôt ira vite
Comme le présent
Sera bientôt le passé
L'ordre des choses
Disparaît bien vite
Et celui qui est le premier
Sera bientôt le dernier
Car les temps sont en train de changer.
Mes autres traductions des chansons de Bob Dylan :

http://www.rocktranslation.fr/tag/bob%20dylan/ ​​​​​​​
COVERS IN ENGLISH (in bold: videos below):
SIXTIES : Peter, Paul and Mary, Simon and Garfunkel, Linda Mason, The Seekers, Lyn & Graham McCarthy, The Silkie, The Beach Boys, The Byrds, Dorinda Duncan, Chas McDevitt & Shirley Douglas, Peter Antell, Odetta, The Ian Campbell Folk Group, The Human Beingz, Cher, Sebastian Cabot, Leon Bibb, Burl Ives, Lester Flatt & Earl Scruggs, The Yankee Dollar, Nina Simone, The Hollies, The Brothers and Sisters of Los Angeles
SEVENTIES : Merry Clayton, Hugo Montenegro, Riz Ortolani, Joséphine Baker, James Taylor, Carly Simon & Graham Nash
EIGHTIES : The Wanderers, Vice Squad, Joan Baez + Neville Brothers, Billy Joel, Richie Havens, Runrig
NINETIES : Eugene von Beethoven, Eddie Owen, Barbara Dickson, Tracy Chapman, Phil Collins, Manfred Mann's Earth Band, Blueground Undergrass, Gli Sbronzi di Riace, Lord High Fixers, Bruce Springsteen
2000's : Christoph Bull, Blackmore's Night, Me First and The Gimme Gimmes, Beth Scalet, Mankind, Ronald Born, Madooo, Bill Camplin, Keb' Mo', Apple, Stry Terrarie/Kanarie, Katy Mitchell, The Stay at Home Joneses, Anders Blichfeldt & Danish Radio Big Band, Tom Corwin and Tim Hockenberry, A Whisper in the Noise, Les Fradkin, Bryan Ferry, Mason Jennings, Brandi Carlile, Mountain, The Del McCoury Band, Barb Jungr, Damien Leith, Maureen McGovern, The Abrams Brothers, Chuck Ragan, Mitch Daniel, Kate McGarry, Micah P. Hinson, Tony DeSare
2010's : D.O.A., Herbie Hancock et al, Claus Hempler, Derek Webb, Winston Apple, Flogging Molly, Tim Timebomb, Tim Benton, The Charlie Daniels Band, Noah Guthrie, Tom Moriarty/Katey Brooks, Gerhard Wildmoser, Ryan Keberle & Catharsis with Camila Meza, Bettye LaVette, Jess & Matt, The Radish Friends, Isabella Lundgren.