Neil Young a sorti Rocking In The Free World en 1989, sans l'album Freedom. Ce texte a été inspiré par les changements politiques ayant eu lieu à l'époque sous la présidence de George Bush Senior, dont il était un farouche opposant.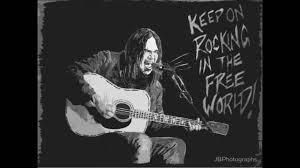 "Rocking" : j'ai traduit l'esprit plus que la lettre, on en aurait eu pour plusieurs page sinon. Lisez tout le blog, et on commence seulement à cerner ce que rocking veut dire.
Neil Young – Fêter le monde libre
Le pavois est dans la rue
Rouge, blanc et bleu
Des gens remuent leurs pieds
Des gens sont à bout de forces
Mais il y a un signal prémonitoire
Il y a pas mal de gens qui disent
Qu'on serait mieux si on était morts
J'ai pas l'impression d'être Satan
Mais eux le ressentent ainsi
Alors j'essaie juste d'en faire abstraction
D'une façon ou d'une autre
Continue à fêter le monde libre….
Je vois une femme ce soir
Tenir la main de son petit
Sous un vieux lampadaire
A côté d'une poubelle
Elle abandonne son enfant
Pour aller se shooter
Elle haït sa propre vie
Et ce qu'elle en a fait
Voilà encore un enfant
Qui n'ira jamais à l'école
Ne tombera jamais amoureux
Ne connaîtra pas le bonheur
Continue à fêter le monde libre….
Nous avions mille foyers
Pour accueillir un sans-abri
Nous avions une mitraillette
Plus douce et plus humaine
Nous avions des supermarchés
Et du papier toilette
Et des boites en polystyrène
Pour la couche d'ozone
Nous avions un homme du peuple
Nous disant de garder l'espoir
On est assis sur un tas de pétrole
On a des routes pour le brûler
Continue à fêter le monde libre….



Youtube : Rocking In The Free World


Neil Young - Rocking in the free world
There's colors on the street
Red, white and blue
People shufflin' their feet
People sleepin' in their shoes
But there's a warnin' sign
on the road ahead
There's a lot of people sayin'
we'd be better off dead
Don't feel like Satan,
but I am to them
So I try to forget it,
any way I can.
Keep on rockin' in the free world,…
I see a woman in the night
With a baby in her hand
Under an old street light
Near a garbage can
Now she puts the kid away,
and she's gone to get a hit
She hates her life,
and what she's done to it
There's one more kid
that will never go to school
Never get to fall in love,
never get to be cool.
Keep on rockin' in the free world,…
We got a thousand points of light
For the homeless man
We got a kinder, gentler,
Machine gun hand
We got department stores
and toilet paper
Got styrofoam boxes
for the ozone layer
Got a man of the people,
says keep hope alive
Got fuel to burn,
got roads to drive.
Keep on rockin' in the free world,…